In this case study, we'll discover how Shifter helps INFOBAHN focus on their core business and establish a system where creativity can reign supreme.
Mediagene Inc. develops ten media brands for a community that includes business news media giants like Business Insider Japan, technology and product information media like GIZMODO, and diversity promotion projects such as MASHING UP.
INFOBAHN Inc. is a digital branding agency. They provide one-stop media planning solutions like UX strategy, creation and management of owned media, and native ads.
The event site called "MASHING UP", which has recently introduced Shifter as their hosting provider, has been developed by Media Gene.
The Problem
Infobahn and Mediagene were struggling with several performance bottlenecks. Most of these bottlenecks were caused by fields and plugins customized by individual teams which prevented WordPress from being able to be updated. Although non-engineers were able to create content for their sites, there were restrictions and limitations on what designs and content could be realized.
Server maintenance issues
Because of the amount of maintenance required by their old setup, lack of maintenance resources proved to be an obstacle to business expansion. A major goal for the process overhaul was to reduce the cost of outsourcing maintenance of their sites.
Issues related to site creation
Infobahn and Media Gene's sites tended to use paid themes for in house production, but they wanted to outsource the production of these sites in the future. Each site required the ability to register a speaker's information, create an event timetable, and set up and replace banners on a 'supporter' page.
How Shifter Helped
Solving issues caused by existing paid themes
We were able to standardize tasks like speaker registration, timetable creation, and banner creation for easy use in the future.
Also, instead of using the same paid theme for every site, each team was able to use themes that they were comfortable with. They were also able to standardize the rules for site construction so that plugin use was uniform across all sites. This resulted in making site outsourcing of production for these sites much easier.
Solving server maintenance issues
By using Shifter, Infobahn was able to reduce the labor and maintenance costs of maintaining a server and updating WordPress.
Going Deeper
We interviewed three people from INFOBAHN involved in event management, website creation, and the introduction of Shifter to their workflow.
Shota Okawa
Group Head Office Manager at INFOBAHN
Tomomi Nakatani
Technical Director at Infobahn
Tomoko Kashiwagi
Director at Media Gene
Interview Facilitated by
Fumito Abe
CEO, Creative Director, and Design Engineer at Necco
Photography, writing and proofreading by
Hitomi Natsui
Editor and Photographer
Please tell us about the event first.
What kind of event was MASHING UP and how did it start? DigitalCube is running an event called "Shifter Meetup" which is for exchange and learning between Shifter users, and Necco is planning and running a study event "CaT" for creators, so we have some common interests.
Shota Okawa, Group Head Office Manager, Infobahn: We are a media company that operates several media brands. Usually, our events are derived from web media, but in the case of MASHING UP, it was the event that generated the media. The first event was held in December 2018, and the predecessor "Café Globe" was renamed MASHING UP (https://www.mashingup.jp/) and renewed.
MASHING UP is an event centered around women. It has been said that the promotion of women's achievements and women's advancement in society have been held back in Japan for many years.
However, each of the struggles facing women such as problems in the workplace and harassment has been divided into issues that need to be addressed by society as a whole. MASHING UP connects all of these issues and addresses them in one event.
Looking at the site, the number of speakers is extremely large which matches the large size of the venue. Was this event always this big?
Okawa: Yes. The venue has been held at the Trunk Hotel in Shibuya three times in the past. Shibuya is rich in diversity, and we have our office in Shibuya, so we stuck with the venue until the connection was established. In most cases, we had about 1,000 participants over two days with over 100 speakers.
Seiji Akatsuka, Customer Success Manager, DigitalCube: I've seen that there are not only sessions but also consultations and mentoring. The speakers' industries also vary, so how do you select them?
Okawa: Regarding the selection of people, experts and influential individuals in various fields participate as an advisory board and we receive advice from them. Some of the speakers are celebrities that everyone knows and wants to hear, as well as others who are working on new things. I would like people from different genders, ages, industries, and nationalities to provide ideas and networks and mash them up to get hints on how to live and work. That is the main purpose of the event.
I think that MASHING UP was originally launched with some intent towards marketing or branding, is that true?
Okawa: Since we have been using digital media and the Internet as our main battlefield, we feel strongly that the reliability of "what is true" is important in the modern Internet society, which is full of varying information. Web media is often judged as good or bad based on the number of views, but how much value media has cannot just be measured by numbers alone. We see the media as a "community built with the users." For that purpose, it is important to connect not only online but also offline, that is, in a real place, and to get a visual understanding of who users are. MASHING UP was launched with that intention. By gathering in a real way, users are able to share their excitement, visualize it, and turn it into digital content. Even if there are only 100 people, if the reader is informed about the enthusiasm of 100 people, the quality of the media will change even if the number of views is small.
In our company, our representative Imada is a woman, so there are many opportunities to think about how a woman can be successful. This mission is often expressed in different ways such as "women have to be active" and "women must be equal to men." Imada likes to use the phrase "So that women can live flexibly." I also like the word "flexible", it helps us envision a society where women and other people from diverse backgrounds can be flexible while playing an active role. We cannot limit ourselves to a single industry or business type, I think that vision is important to share. We chose to communicate and visualize this message in a real-world setting, which started with the event. However, events come and go so the place to store the event is through the media. Our strength is in preserving events through media rather than just hosting and events and calling it done. The most important thing at the event is being persistent.
So that's it. Since Necco's staff is completely made up of women (except me) I realized I had to work on those issues more properly. Does MASHING UP set key performance indicators (KPIs) or set goals for an event?
Okawa: Although we have targeted such as the number of mobilizations, we do not have specific KPIs. However, there is an awareness that these events must be sustainable. I think that a certain amount of sales is necessary to continue such events. Increase the number of fans so that you can continue, and ask participants to attend again. Of course, the result has been enough to continue as a business. Because it is a business, it seems like we will continue.
Hiromichi Koga, CEO DigitalCube: Keeping the energy and the axis of interest is about being persistent. There is a third because there is a second, there is a fourth because there is a third. The person who attended the event the third time will be the speaker the fourth time after saying "I also want to speak", and the person who could not attend will hear the participants and say "I want to go" or "Let's go together next time". A new circle expands or returns as the previous event was triggered. That's how to measure the amount of enthusiasm. You have to try something at least twice. So, as a result, the goal is to continue. I think it's important to be optimistic about the next round,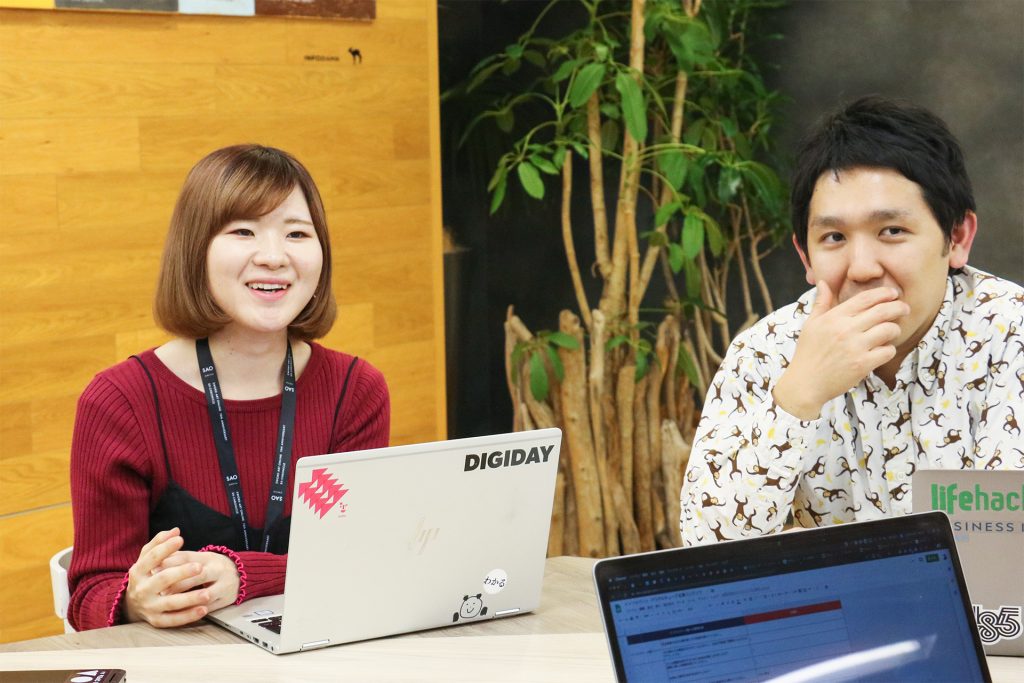 Okawa: One of the roles of the media we produce is to create the space for communication that connects audiences. Since the amount of enthusiasm will decrease over time, archiving an event properly and bringing it to the next place while keeping it or recovering it by dropping it.
Koga: We have run a number of events, including small meetups and community events, but on the day of an event, we always attach a hashtag and tweet, and after the event is over, we create a summary article. Without doing these things, the results of the event are completely different. Having media to continue a conversation is a great strength. It was interesting to note that your business and event media were able to communicate at a high level.
Okawa: Naturally, individuals using social media are also part of sharing media. Many people who participate in the event want to share their opinions. If the media from the event is archived, you can link it to yourself and publish it. Then you can publish more than just participate. There are many posts such as "The session that I found interesting became an article" and "I really sympathized with this part." After an event has finished, you can often recall and organize your articles by reading them back.
Koga: Even posting a single word, such as reporting on a speaker's talk or tweeting an article, becomes a medium for publishing and becomes part of the "one by one" process for spreading media. This is very important. Not only are you sitting and listening to the events that others are doing, you can also feel that you are participating.
Akatsuka: A lot of our core fans that have a lot of enthusiasm send out our articles, and the fire spreads. It is a bonfire from there.
Okawa: That's right. It's the participation of core fans that provide the spark, and the fire will spread from there. Some of the participants will attend each time or several times, but in fact, half of the attendees we see are attending for the first time. In that context, it is important to expand our circles further.
Now, let's talk about Shifter. How did you create your site before you introduced Shifter?
Tomoko Kashiwagi, Director at Media Gene: The MASHING UP site was not originally made on WordPress, the infrastructure was a Google Cloud service called GCP, and the themes we used were paid templates. We had been customizing these themes quite a bit, but the effects of that made it impossible to support theme updates. As the size of the event grew, we came to the point of asking "What should we do?"
Tomomi Nakatani Technical Director at Infobahn: Since it is an event site, there are a lot of replacing speakers, and the information is constantly increasing. Every time we needed to update, asking an engineer was time-consuming and expensive, so we were looking for something that could be made without coding if possible. At that time, we heard from an acquaintance that there was this useful thing called Shifter, and we participated in "Shifter Meetup". However, knowing the details of Shifter, we thought, "This is it!" So we were just attending a social gathering (laughs).
Koga: At the social gathering, our engineers were also present, and we heard a talk from Mr. Nakatani while drinking beer, and it turned out that Shifter could solve the infrastructure part and also propose solutions for the theme part.
Nakatani: We were worried about continuing with the theme we had. There is a risk of continuing to operate with a customized theme, and a situation where you have to write code to put out the content is difficult. We wanted to improve our processes here a bit, but when it came to assigning a designer and an engineer and setting up a schedule … it took time and effort.
Akatsuka: So we proposed making it so the parts of the CMS that previously couldn't be changed now could be.
Focus on more valuable work because of limited functionality
How about actually introducing Shifter? Please tell us about your experience as well as the good and bad points.
Tomoko Kashiwagi, Director at Media Gene: Because there is a unique workflow to using Shifter, we first handed out a manual to the staff in charge of the work and explained it. Everyone was confused at first, but it wasn't a difficult task, and we made frequent updates to our sites so we got used to it. Now it works without any problems. There are no accidents such as publicly publishing an article before it's ready to release or overwriting an article by mistake.
Were such accidents happening previously?
Kashiwagi: In the past, there was a major systemic problem, and the staff responsible for editing and the staff actually updating were separate, so inconsistencies such as "I want you to get it up sooner" and "Wait a little longer" sometimes occurred. Since many staff members had update authority, there were workflow issues as well.
Okawa: When we introduced Shifter, we were glad that we could start with the workflow. Of course, we think there are other points to review. But we were able to renew our process while adjusting the workflow, and in a good way, we were able to take a step towards departing from our previous issues.
Akatsuka: The concept and design of Shifter, which makes WordPress static, has also had a positive effect on the revision of your workflow. I think "deploy" and "generate" are words we don't usually use, but did you understand them? Also, if you have any uncomfortable feelings such as any difficulties using Shifter, please let me know.
Kashiwagi: Those words I don't often hear, so question marks were floating in our head at first, but it seems that we got used to it faster than we thought. Although it takes an extra step to go into production, overall our process is smoother than before. We are not dissatisfied with Shifter.
Koga: Unfamiliarity when introducing a new function can be solved by keeping actions simple, so when there is only one place to click there is no hesitation while learning.
Okawa: When multiple people are frequently making edits and moving content, I want to have certain rules. If there is a rule, you can follow it, even if you do not have an answer. If you don't have the rules, you'll spend too much time building your site and not focusing on the original goal of making the event a success. The most important thing is that the person who is interested in an event can see the information properly. To create an environment where you can concentrate on valuable work, it is great to have rules that are fixed.
Shifter reduces workflow by 98.5% by organizing workflow!
Mr. Nakatani, what kind of change has happened with the introduction of Shifter?
Nakatani: I got very unbusy.
All: Awesome! You lost your job (laughs).
Koga: This is important. The absence of work means that you have more time to focus on your own tasks. That's because Mr. Nakatani participated in the Meetup and drank beer at the social gathering (laughs). Being able to bring your own ideas to maximize your time is probably the best achievement.
Nakatani: That's right. Although I inherited that from my previous engineer, I'm a front-end engineer and I don't know much about infrastructure. That's why we asked vendors for maintenance, which cost us every month. If something happened, I would be the contact person, contacting and giving instructions, scheduling, and handling … After Shifter was introduced, that work became unnecessary, and maintenance costs became zero. To give you a number, Infrastructure operation and maintenance costs will be reduced by about 98.5%.
98.5%… !? That's a great number!
So, conversely, is there any new work you did after you started to use Shifter?
Nakatani: In addition to the event site, there are also such sites where we thought "Do we need to use such large-scale infrastructure?", So we are reviewing them and moving to Shifter to make suggestions for improvement.
Koga: Optimization of cost and labor. It's important to see and improve costs, resources, making adjustments for time, etc., and moving and managing them like an auditor. It may be nice to have one person in the company who can be a cost and time-efficient auditor. Until then, the people who had been working hard had their burden released one by one.
Has human cost been reduced?
Okawa: I do not know if it is said that the total cost has been reduced, but as I mentioned earlier, the workflow was organized, and the work costs and risks for each staff were diversified. The big thing is that we can now operate without an infrastructure manager.
Also, if our sites can be switched to one platform, other event sites can be moved to Shifter and deployed horizontally. Depending on the event, only the type is decided, and furthermore, the design can be customized and developed according to the demand, and an efficient method can be used. It is important for us to run many events so we can expand horizontally.
Some events begin preparations almost a full year before the actual production, but it's been a long time since themes and concepts were decided and clarified and could be put into the site design. The functions of all event sites are the same to some extent, and the rest is a matter of presentation, so I want to be able to prepare with only certain things.
Koga: If you have information about the speakers and news updates, you can publish them to some extent on the teaser site.
Do you have any content or features that you want to add in the future?
Kashiwagi: It's not MASHING UP, but the site of the event "BEYOND MILLENNIALS 2020" will be released soon.
This is a Shifter site in function and content, but the quality is still in preparation and in a teaser state. Here, I want to re-import the function to output the social media timeline from MASHING UP. It is a function that curates the amount of heat on social media.
Okawa: You don't know the third-party evaluation of an event without some kind of a review site. After watching a movie, I look for reviews like 'does someone have the same opinion or impression as myself? It's useful to have information on social media, even at least for events. In a state where social media opinions are gathered, the site becomes the property as it is.
Akatsuka: You have the power to use your learning to extract it. It is an ideal way to deploy.
Now, the last question. What would you recommend if you would like to introduce Shifter to someone who has similar problems?
Nakatani: The costs related to infrastructure and WordPress maintenance are quite low. Server operating costs have dropped dramatically. Most of the commissioned projects I am working on use AWS to create a different environment for each company, and I can not monitor them myself, so I ask vendors. The bigger the company, the more security, and conditions change, so it costs a lot. It has the merit of being able to respond in detail, but honestly, isn't the WordPress site necessary for this function? There are many things that are configured.
In the case of Shifter, it is built for WordPress, and if you click with Shifter, you do not need to do any work. It's simpler and better than ordering poorly.
So, Mr. Kashiwagi, how would you recommend to people and customers in the same department?
Kashiwagi: The sense of price is a material that can be easily negotiated within the company. Then we no longer need to go to the technical director or engineer. In the case of our company, I think that if you have a position like a director, you can introduce and run by yourself. DigitalCube helped me with my various uses and questions.
Koga: If you have never touched it, it will be tough, but if you are a director or someone who knows the overall feeling or can decide what to do next, you can probably use it. I think you can take it to the point where you create and operate a site.
Summarizing the story of the two, the shift to Shifter eliminates the need for Mr. Nakatani to manage servers and middleware, solves 'server maintenance issues', and allows Mr. Kashiwagi to operate statically, it means that "site creation issues" including speed, security, and WordPress updates have been resolved.
Finally, how about Okawa-san?
Okawa: Unless the speed of the entire business, including the operation of the event, the production of the site, and horizontal development are steadily increased, the timing will be lost to the tides of the time. The modulation of business is steadily increasing, and the quality of content cannot keep up without new ideas. With Shifter, you can minimize time and cost and focus on where you should focus. You can also develop a workflow for creative ideation without interruption..
I see! Thanks to the elimination of server management and site creation issues, the end result is a system that allows you to pursue essential creativity. You've benefited the most from Shifter. Finally, thank you very much for speaking with us.
---
Postscript by Fumito Abe, Necco
First of all, the fact that Infobahn and Media Gene were ahead of us with super-upward compatibility of Necco was a great surprise. Necco is a company that has been working on the production of customers' websites and the development of its own media, launching numerous projects from media to events. In this interview, I listened to a lot of stories and learned a lot.
Among them, this time we talked about MASHING UP's shift to Shifter, which is also used for events and media for large-scale events with about 1,000 participants and more than 100 speakers. Shifter is used to operate a website that involves many people, including those who write articles and those who update information such as speakers and timetables. In this context, we demonstrated the true value and spread the goodness horizontally, such as using Shifter for other websites and proposing cost reductions to other departments.
It's all about great cost savings, ease of use, fast site display, and almost no WordPress operation. However, using a lot of employee's labor for these things should not be the job of INFOBAHN or Media Gene.
In the story of changes after the introduction of Shifter, Mr. Nakatani said, 'I got very unbusy.', this is exactly what is important, and it is more important than anything that employees can do with their original work. The elimination of unnecessary work has led to significant cost savings, and the company is now able to meet its primary tasks, which is likely to increase sales.
Increase sales while reducing costs.
This relationship, which appears to be a trade-off, was created by Shifter in this case.
I am looking forward to the BEYOND MILLENNIALS 2020 in January. Thank you, Mr. Okawa, Mr. Nakatani, Mr. Kashiwagi, for your valuable talk!